there isnt really much to it, i'll assume by now you have all the pins removed from the from the front of the main board, the ones that connected that big black piece of plastic known as the controller and memory card slots. and as a result you now have 2 rows of holes, one for the controllers, and one for the memory cards. well all you really need to do is take the memory card out of its own plastic casing, so that you have just the little PCB inside. from there you just lay it flat on the PS2 mobo, near the memory card pin holes, and solder it to the main board accordingly.
maybe this pic will shed some light on the idea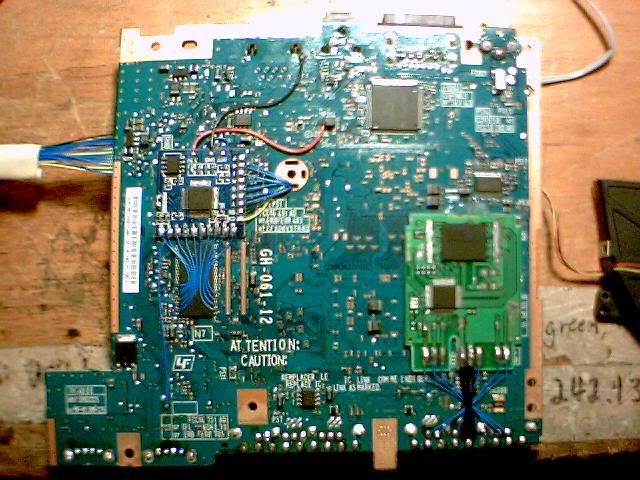 you see how i have the card laying flat against the main board, with those thin blue wires going from the pads on the card, to the pin holes on the main board?? and notice how they criss-cross in the center, this is because laying the card flat on the board like i have it is actually backwards to the way it normally connects to the PS2 mobo, but like i said, if you just just solder the pads to the pin holes accordingly it words just the same.
here is a little diagram to clarify the soldering process:
FYI, the different colors of the wires doesn't mean anything, its just to help with the idea that they criss-cross. and also, it would be a good idea to put a layer of electrical tape, or just some kind of non-conductive substance on the back of the memory card, to prevent any shorts while it lays on the PS2 mobo. and obviously you should use a little hot glue to hold it there, lol. and finally, when you solder the wires to the holes on the PS2 mobo, you should make sure to put the wire through the holes, as both sides of the mobo have traces that connect to the pins, and this will ensure that everything is connected properly.
well i hope that helps, and as always, if you have any further questions, dont hesitate to ask