Well seeing as the holidays are here and I have six weeks I thought I would start a post for the cocktail cabinet I've been gathering materials for. There is no rush to finish this and I have a lot of time so it might be a pretty slow project but I'm sure it will get done. That said I could get fanatically into it and finish it before halfway through the holidays.
The first thing I did upon deciding that I wanted to make an arcade cabinet was to design a rough model in Rhino which can be seen in my signature. From that I am able to make templates for cutting and get sizes of the materials I need.
For my 16th birthday in June my parents gave me $300 AUD to go towards whatever project I wanted to do next. A lot of this money went to buying the controls, keyboard encoder and coin mechanism for the arcade machine.
The keyboard encoder can accept 10 digital inputs (high/low) and another 4 for a joystick. The two joysticks will go in parrallel.
The joysticks. Reds are 4 way, blacks are 8 way.
Buttons. 8 for each player so you can have two for pinball (on the sides of the control box) and six for general playing as well as a labelled P1 start or P2 start (both different colours) that have an LED to illuminate them.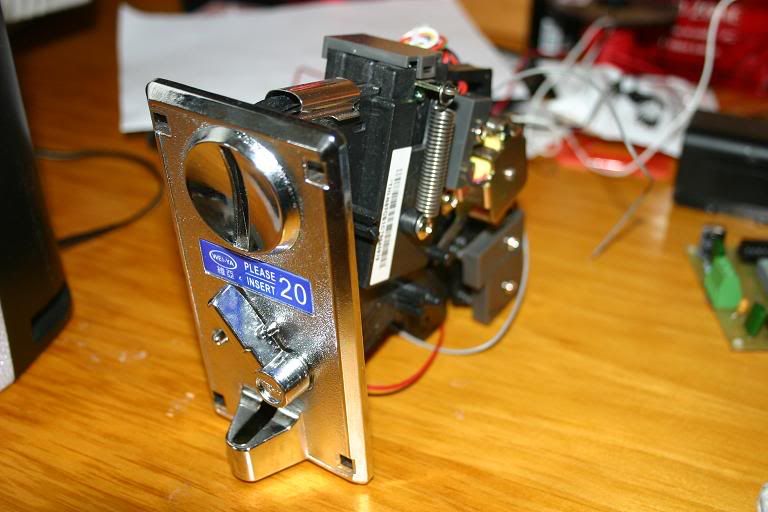 My electronic coin mechanism uses the hall effect to only let the right sized coins through. In this case Australian 20 cent coins.
All of the above was bought from a great online store called ozstick.com.au.
Now here's something I'm very proud of. Recently I got to do a bit of work experience at the end of year 10. I was fortunate enough to find a place at the university of newcastle electrical engineering department. I even had my own work bench with a variable power supply with 4 channels, a nice CRO, a computer with two monitors (big ones), a weller soldering station and lots of bench space.
My mentor was a great guy and he told me that I'd better bring a project to work on. I decided to do something similar to what Ben did with his arcade cabinet and make a counter for the coins using two 4033 ICs. These are decade counters with seven segment display drivers built in. With a lot of my help from my mentor and a program called altium designer 6 I ended up with the board pictured below.
Every time a coin passes through the coin mechanism the 7 segment displays will show that one has been added to the count. If a display is showing a leading zero then it turns off eg 07 becomes just 7.
It was a lot of fun watching the milling machine rout my board down to 30 thou traces right in front of my eyes. I tried a 15 thou trace board but a couple of traces came off
.
It works nicely even after you accidentaly put 12V in the wrong way after someone switched the wall power adapter at home to negative tip positive sleeve.
On the software side of things I have gotten MAME running with MALA as a front end. I have gotten some nice themes for MALA for each system. I have also set up MALA so it can call ZSNES, project 64 and many other emulators via command line so this arcade machine will play many different systems.
I still have to install virutal pinball and wincab, though if anyone knows a better jukebox software that is free tell me.
I have some nice marine grade 5 ml plywood that my Dad left over from building his previous boat so I have some good wood to build the arcade cabinet with. I will be using his shed (tunnel tent but a very good one), which has a lot of room. He won't be in it for a while so for the moment it is all mine Mwa ha ha ha haa.
Just one more thing. The PC running the arcade software is a four year old school computer (props to mum for grabbing two for me when she saw them being given away) and is actually pretty good. It doesn't have a graphics card or anything fancy but its good enough for project 64 and thats probably the most graphics intensive application I'll be running.
Anyway I'll start work tomorrow.
EDIT: Oh something I bought recently for my N64p and for my upcoming playstation portable.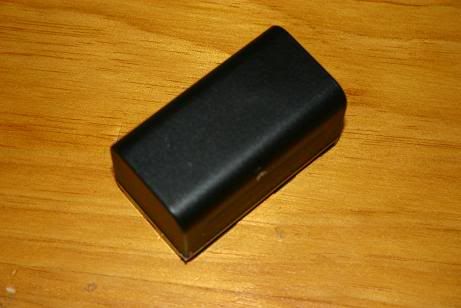 7.2V 4400mAh. Oooh yeah.